Introduction
1) Posting
1.1) Changing your text style and size
1.2) Adding an image
1.2.1) Adding an image from your computer
1.2.2) Adding an image from a URL (web address)
1.3) Adding a URL (web address)
1.4) Adding a quote
1.5) Adding code
1.6) Adding a list
2) Changing your profile
2.1) Adding profile information
2.2) Adding an avatar (that little picture that appears under your name)
2.2.1) Uploading an avatar from your computer
2.2.1) Using an avatar from the web
2.3 Adding a signature
3) Private messages
3.1) How to check your private messages
3.2) How to compose a private message
4) Reporting posts
4.1) How to report a post you think is offensive
5) Polls
5.1) How to start a poll
6) Who to ask for help
Introduction
Hi folks, first let me tell you that you can safely skip over this introduction if you're not too bothered about why things work and would rather find out how to make things work instead.
What you should know is that for you to do funky things with your posts you usually have to inset your text into "tags". A tag will have a start [] and an end [/]. For example the tag used to display pictures located on other websites is...
1) Posting
On this forum you can start new threads or reply to ones which have been started by someone else. The only forum you cannot post new threads or replies in is the announcements forum which is reserved for use by admin and mods to let you know of anything important that might be going on.
The button bar above the text posting body is the easiest thing to use of you want to add pictures, change your text style or whatever. The buttons are used for (left to right) making text appear as bold, making text appear as italic, making text appear as underlined, inserting a quote, inserting BB or HTML code, inserting a list, inserting an ordered list, inserting a bullet point, inserting a picture, inserting a web address and inserting a flash animation. The drop down menu allows you to change your font size.
1.1) Changing your text style and size
You can change the way your text appears on any of your posts by editing the
colour
,
style
and
size
. To make these changes simply use the left mouse button to highlight the text you wish to change and select which changes you want to make using the gray buttons located above the Message body box. By clicking on a button or on a colour (located to the right of the message body text box) the forum software inserts the text you highlighted in the tags which will allow you to change your text so the following should appear in your message...
It will appear like this when posted
This text is bold
You can mix and match so this...
...will appear like this when posted...
This text is coloured, bold, italic and bigger
Try it and see!
1.2) Adding an image
This forum allows you to upload an image from your own computer or link to one which is already located on the web.
1.2.1) Adding an image from your computer
To upload a picture from your computer check out the "Upload attachment" option near the bottom of the screen when you are posting a new topic or a reply. Hit the browse button which will let you search your computer for the file, add a comment for the file if you like then hit "Add the file". Your picture will then be uploaded and will be displayed when you submit your topic or reply - easy eh!
1.2.2) Adding an image from a URL (web address)
You can also display pictures that are hosted on the web elsewhere as long as you have the URL (web address). Paste the URL into your message body, highlight this using the left mouse button then click the "img" button so you have something like this...
It will be displayed as a picture in your post as long as the images location allows direct linking. If it does not the following sites offer image hosting along with hot linking...
http://photobucket.com/
http://imageshack.us/
1.3) Adding a URL (web address)
This is very easy. Paste the URL or web address into your message body, highlight it with the left mouse button and hit the URL button. You'll wind up with something that looks like this...
...that will look like this when posted.
http://www.runrig.co.uk
You can even be a bit fancy and give a name for the website like so...
which will appear like this when you post...
Runrig Official Website
1.4) Adding a quote
The forum lets you quote whole posts in a reply or you can be picky and select only bits of a post to quote. If you want to quote a whole post just hit the "Quote" button that appears along the bottom of the post you wish to quote. The forum software will take you to a reply screen with the post you selected wrapped up in quote tags. You can take bits out or you can just leave the whole post in.
If you want to quote several posts just copy and past the text into your message body, highlight the text and click the "Quote" button. You can add a persons name into the quote tag so that this...
I am a bit of a numpty please ignore everything I say
looks like this...
Skye High Andy wrote:I am a bit of a numpty so please ignore everything I say
1.5) Adding code
The "Code" button allows you to insert display the code needed for making changes to your post without those changes actually being made. I can't think why you'd want to do that aside from me making this post so I'll ignore it for now.
1.6) Adding a list
To add a List Click the button that has "List" on it. There is another that says "List=" which lets you create an ordered list. Anyway if you make a list of things like so...
What's in my tropical fish tank
2 platys
7 neon tetras
2 catfish
1 pleco
You can make it so the forum displays it like a list by highlighting it and hitting the "List" button. To make it look even more like a list use the "[*]" button to add bullet points. It should look like this in your message body...
2 platys
7 neon tetras
2 catfish
1 pleco
To create an ordered list instead click the "List=" button and use either "a" or "1" to start a list...
2 platys
7 neon tetras
2 catfish
1 pleco
2) Changing your profile
The forum stores a little optional information that you can fill in and let others learn a bit about you. Please note that things like your email address is not displayed and you don't have to fill any information in if you don't want to.
2.1) Adding profile information
Click on "User Control Panel" at the top right hand corner of the screen. There will be a menu down the left side which you can select "Profile" from. Fill in the bits of your profile you want people to see and hit "Submit".
2.2) Adding an avatar (that little picture that appears under your name)
Under the profile menu there is an option to "edit avatar". At the moment we can allow you to upload your own avatar or link to one which is already on the web. The avatar limit is set to 150(h) x 100(w) pixels.
2.2.1) Uploading an avatar from your computer
In the "Upload from your machine:" line hit "browse" and find the avatar on your computer. Once you've found it hit "Submit" but don't forget to delete the avatar dimensions as this will probably differ to your avatars dimensions.
2.2.1) Using an avatar from the web
If you have the URL for an avatar you want to use which is already on the web insert this into the "Upload from a URL: " or the "Link off-site:" line. It doesn't really matter which you use. The Upload from URL will copy the image to this forum while the Link off-site will only link itself to where the avatar is currently stored. Once you've done this hit "Submit" but don't forget to delete the avatar dimensions as this will probably differ to your avatars dimensions.
2.3 Adding a signature
Also in the profile menu you'll find the "edit signature" option. This allows you to add a few lines of text or a small image to the bottom of your posts. Simply click on this option and enter what you wish (within reason obviously)
3) Private messages
On this forum you may send private messages to any other members listed unless they have specified they do not wish to receive private messages.
3.1) How to check your private messages
You can check your private messages by either clicking the "User Control Panel" then the "Private Messages" option on the left menu or you can click the "new messages" option located on the top left side of the page.
3.2) How to compose a private message
In your private message menu click on "compose message". You need to select who you want to send your message to so do this by adding their name to the "Send to > Usernames:" box. If you're not quite sure if the username is the right one you can click on "Find a member" to look them up. Once you've got the member(s) you're looking for hit the "Add[To]" button. You then need to enter a subject for your message in the subject line (it won't send otherwise). Next you can enter your message and simply hit "Submit" or if you want to see what it looks like first hit "Preview" instead.
4) Reporting posts
This forum software allows you to flag posts which you deem offensive to moderators and admin without anyone else seeing what you've done (the post author cannot see you have done so).
4.1) How to report a post you think is offensive
Beside every post there is a post report button which looks like this...
Click it to flag the post to moderators and admin, it will ask you for a reason you have reported the post which you can select from a drop down menu. You can also add comments of your own in the "Further information:" box.
5) Polls
These are a fun way for people to collect views without others having to reply to a thread.
5.1) How to start a poll
To start a poll click the "New topic" button as usual and enter your message. Look at the "Poll creation" part of the screen and simply type in your poll question and possible answers. Besure to enter each of your answers on a separate line by hitting the return key after each one. You can also choose how many options people can select, whether or not the poll should shut in a given number of days and to let people change their vote.
6) Who to ask for help
Firstly there is an FAQ for the forum located at the top right hand side of your screen under the banner. There is also a very helpful BBCode guide which is a little hard to find. It is located on the Repy/New Topic screen under "Options:" on the left hand side under the smilies. Click on the "BBCode" link to be taken to a short BBCode tutorial. It is actually very good and I've no idea why it's tucked away in there...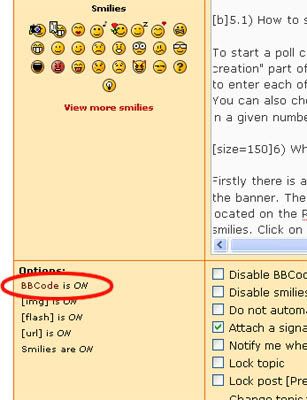 Failing that your first point of call should probably be me or Hendo_rfc and failing that any of the other mods or admin aside from "Runrig Office"